Our Mission
Leveraging the collective knowledge of TEC partners, our team mission is to help our clients operate a home care agency profitably, effectively, and efficiently. Through our consulting, enable them to deliver high quality home care services to their clients resulting in rave reviews from their employees, clients, and referral partners.
---
Our Clients
Home Care Agency Leadership (owners, general managers, HR, Supervisory RNs).
---
Our Goals for our Clients
To help our clients:
Create a managed business
Prepare the business for a sale
Deliver high-quality, award-winning services and be able to prove it
Set up and provide human resource assistance to their employees
Set up and monitor key company benchmarks (KPIs) as proof they are running the business well
Create a financial and operating model to forecast revenue, EBITDA and cost to run the business
---
The Founders – Tim and Gina Murray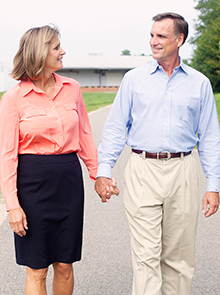 Tim and Gina Murray are the co-founders and owners of TeamElderCare Consulting, LLC. They married just after college after Tim's commissioning into the Navy from Villanova in 1981. He served aboard the nuclear submarine USS Groton SSN-694 and then worked for IBM. Gina, a registered nurse, worked part time while raising their four children. They moved to North Carolina in 1992 when Tim joined a startup technology company. After facing challenging times finding help for their fathers, Tim and Gina felt called to start their own home care agency. Together, they founded Aware Senior Care, LLC in 2014 and were proud members of The Seniors Choice.
From 2017 to 2020, Aware Senior Care was the most awarded and recognized home care agency in the Research Triangle Park of North Carolina being awarded the coveted Home Care Pulse Leader in Excellence award from 2018-2021. Aware also was recognized by Cariing.com with the Home Care CaringStar award from 2017-2020 and SeniorAdvisor.com for Best of Home Care from 2017-2020. Under their leadership, they grew Aware into a $4M+ business with 12 full-time staff and 165 caregivers when they sold their agency in December 2020.
They formed TeamElderCare Consulting to give back to the home care agency owners they admire so much. They want to share their experiences and advice to help owners be the best agency they can be while at the same time build it in such a manner to form a team where they can enjoy life and not do everything themselves!